A Heritage of Heirlooms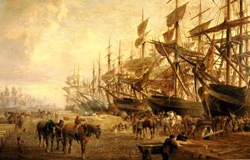 The Kriebel family immigrated to the New World in 1734, as followers of Caspar Schwenckfeld von Ossig (1489 -1561), a leader of the German Protestant Reformation. Two brothers, Christopher and George Kriebel, were among the first Kriebels who settled in Montgomery County, Pennsylvania.
The Kriebel family has mainly remained in the same county in Pennsylvania since. They can trace back their lineage of pastors, theologians, farmers, and furniture makers from the eighteenth century to the present day.
The Kriebel furniture makers of the early to mid-nineteenth century were located in the Worcester/Skippack area of Montgomery County, Pennsylvania. Naturally, the most recent members of the Kriebel Master Crafters are now located nearby on the family farm in Sumneytown. The family has always been in pursuit of perfection and dedication to the craft. With this in mind, it is only natural for Kriebel Designs to continue on the path of building the finest furniture in various styles, including but not limited to, authentic Pennsylvania German reproductions.
Techniques Passed Down Through the Years
Howard Kriebel has been a Master Furniture Maker since the 1960's. Through his long ago apprenticeship by some of the most knowledgeable furniture makers he passes on the methodology of producing various styles of furniture. While technology has made many gains in the ability of even an amateur to manufacture near professional appearing pieces there is no substitute for proven techniques that have been maintained over the centuries and passed down through the generations as trade secrets.
The old adage, "Beauty is only skin deep" applies to especially furniture if the required techniques are not utilized. Without the proper design, technique of assembly and materials there is little chance of a piece surviving for centuries albeit a decade.
The strength of the joinery can be sacrificed if the grain of the wood is not correct, making the choice of materials a crucial foundation for building any piece of furniture. In order to provide the finest pieces made, Kriebel Designs endeavors to control the material quality by cutting much of their own lumber. Feeling a deep responsibility for the environment and the region in which their family lives requires the use local trees in lieu of wood from clear cutting forestry techniques or imported lumber that promotes the further decimation of the planet. Being able to possess a collection of very wide old growth and second growth lumber allows Kriebel Designs to create furniture that is an enduring work of art.